Personal space within a work area is crucial to both productivity and staying organized. The driving force behind a substantial work space is creating the connection between ergonomics and output of work.
If long hours are spent on computer work, moving your monitor off of your desktop with an adjustable computer monitor arm can help de-clutter work surfaces and to avoid neck and back pain that can develop over time from straining to view a screen. With versatile adjustability, a computer monitor arm can adjust to fit the appropriate height, depth, and angle best suited to work activity and personal preferences. Computer monitor arms are available in many different varieties to conform to everyone's specific style of work, including dual monitor use.
SPRING MOUNTED:
This system is attached to your workspace and can be adjusted in height and width. This system is most adaptable for multiple users.
POST MOUNTED:
Like the spring mount, the post mount can be attached to workspace and easily adjustable. This system is flexible between users and can be equipped with additional accessories.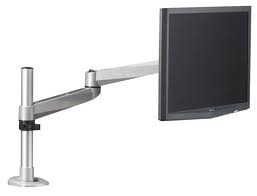 WALL MOUNTED:
Like its name, this computer arm is mounted to the wall. These are quite often applied in healthcare applications. This system would be ideal in a limited work surface area.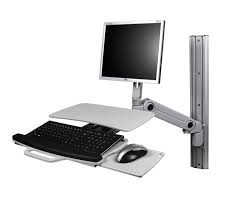 RAIL MOUNTED:
Multiple screens could benefit from a railing system. Rail mounting allows for multiple viewing while still maintaining a clean work surface. Storage bins, lighting, and other accessories can be integrated with your screen to create a versatile work system.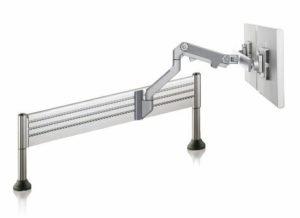 PLATFORM MOUNTED FOR LAPTOP:
These mounts allow a user to mount his/her laptop to be mounted at the appropriate height to avoid straining of the eyes and neck. This system will promote more work space in lifting your laptop off the surface. External monitors can be integrated for dual screening. Additional accessories such as keyboard trays, additional monitor arms, etc. can be included to this system.
Click on the links below to view each system and which computer monitor arm would work best for you and your team.
Humanscale
"A premier designer and manufacturer of ergonomic products that improve health and comfort at work"
https://www.humanscale.com/products/category_detail.cfm?category=monitorarms
Workrite
"Every Workrite product is designed with the direct input of the ergonomics community and businesses just like yours, ensuring that our products provide solutions that adapt to meet the needs of today's diverse workforce"
http://workriteergo.com/monitor-arms/
Sources for research:
https://www.btod.com/blog/2014/11/20/arm-your-desk-for-success-your-monitor-arm-buying-guide/
https://www.humanscale.com/products/category_detail.cfm?category=monitorarms