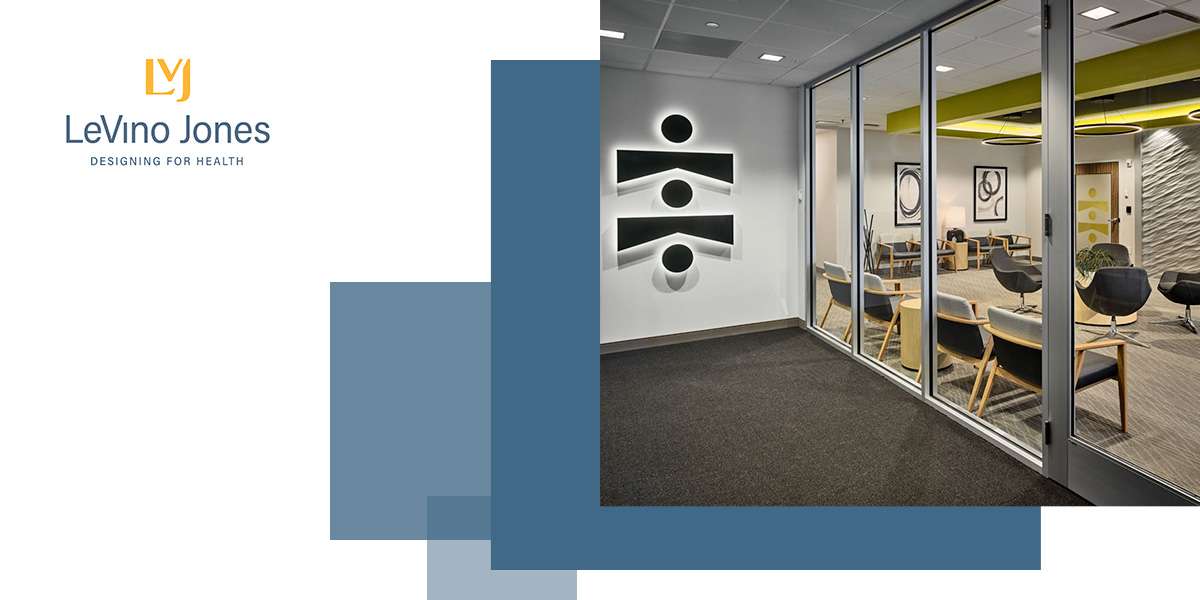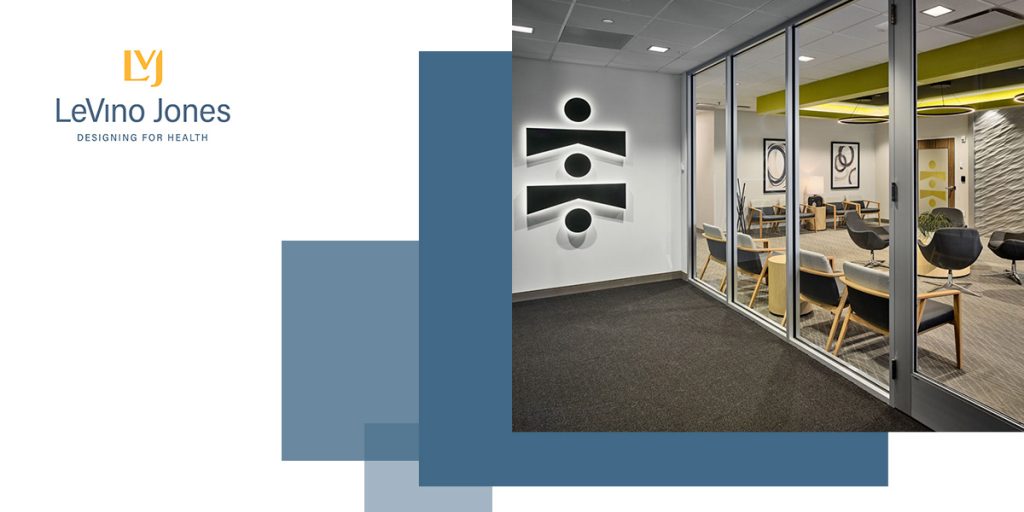 Consistent and effective branding is essential for any company to convey vital messages, build customer relationships and develop customer loyalty, and the health care industry is no exception. Learn more about the benefits of multi-location branding for health care facilities and why you should design your medical offices to feature the same branding.
What Is Healthcare Branding?
Health care branding shapes how customers and employees see a health care organization. It includes a health care organization's logo, name, tagline, messaging, color schemes and fonts. To create a cohesive message and brand that resonates with patients and staff, all these elements must work together.
As patient demographics change, health care organizations and brands need to appeal to customers in new ways and build long-lasting relationships with them. The best way to do this is through branding. Branding can help health care practitioners create an engaging image and cohesive message that appeals to their target audience.
What Is Cross-Location Branding?
Cross-location branding is a promotional strategy for different branches of one brand spread across various locations. The aim is to create a unified brand image that's recognizable across sites while still including elements that are unique to each building or office. For example, most fast-food chains and grocery stores rely on multi-location branding.
Multi-location branding is more than just the colors and logo you use. While it's important to have a name, logo and colors people can recognize regardless of the location, branding must also consider how each site is unique. This service empowers businesses to maintain the practice's familiarity and create a sense of unity while allowing changes in the finishes, art and similar aspects to build a unique location. This helps customers identify your business regardless of the location they visit.
Using the same office design across locations doesn't account for the local demographics and needs of the community. Patients and customers may feel like there's nothing unique or special about your medical office. Adding unique aspects to each medical office can create warm, inviting spaces for patients to enjoy while maintaining brand recognition. Cross-location branding allows you to create practice familiarity but tailor other aspects to local demographics. For instance, you could update images on the walls by using pictures of teenagers to show your care for that group, showcasing your location as a unique service provider for them.
Multi-location branding has various elements, including branding, artwork, furniture, architecture and finishes. Each component is essential to creating medical rooms and suites that patients can quickly identify. Other aspects of multi-location branding include advertising, marketing and promotional events.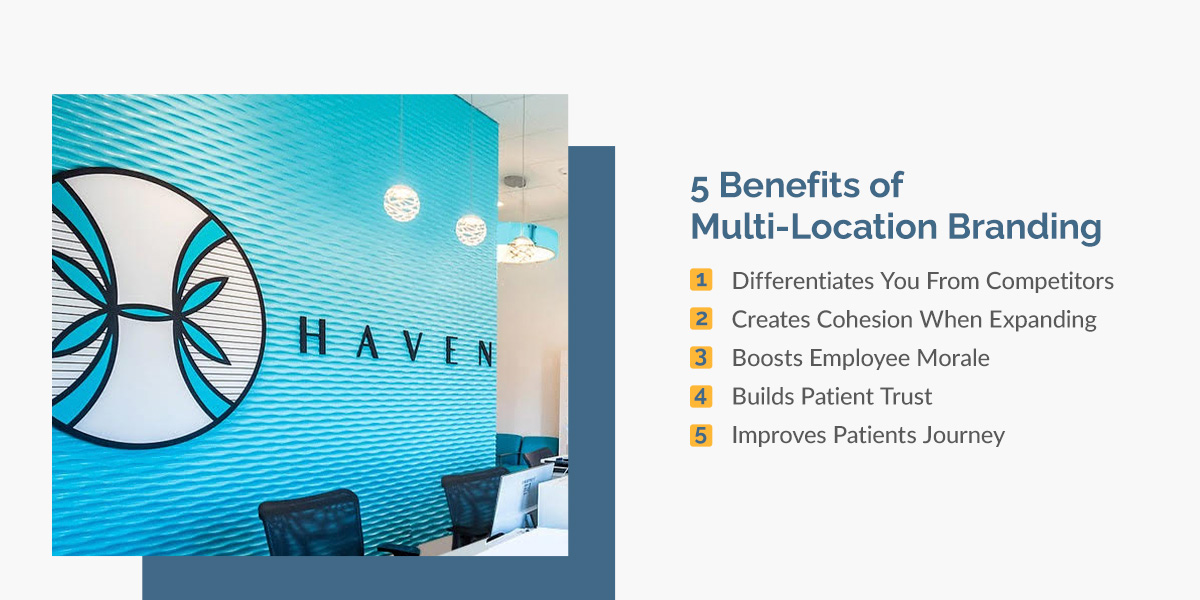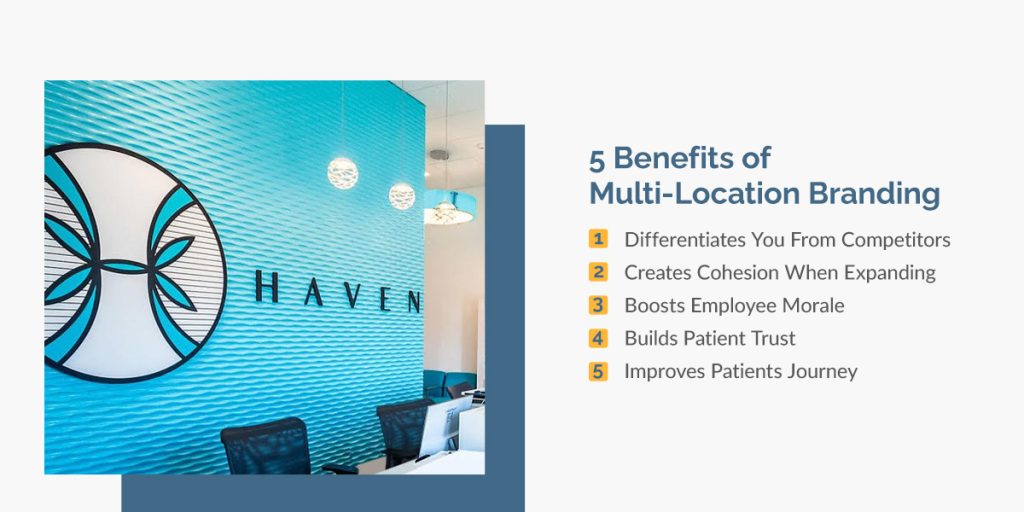 5 Benefits of Multi-Location Branding
Maintaining your brand across locations is essential, as it helps customers recognize your organization no matter which location they visit. There are several benefits to cross-location branding, including differentiating you from competitors, building customer loyalty and boosting employee morale. Learn about these benefits and more below.
1. Differentiates You From Competitors
The biggest and most important benefit of multi-location branding is that it differentiates you from your competitors. Customers have many choices when selecting a medical practitioner, so your brand must stand out. Your branding helps make you unique, especially if other medical practices have similar names.
Having a distinctive logo, font and color is the first step in creating a memorable brand that customers will remember. You can incorporate all of these elements into the interior and exterior design of your medical practice or health care organization. As a result, you can ensure you stand out from your competition.
2. Creates Cohesion When Expanding
Multi-location branding can help when expanding into new regions. You may need to tailor branches in different locations to fit the area's unique requirements. For example, a medical practice branch could highlight specific services that are common in a particular community. This could include emphasizing nutrition and meal support in a community of older adults or showcasing counseling services for communities with teenagers experiencing anxiety, depression or other mental health issues.
As a result, various branches may look different and have unique features. No matter how your facilities look, a consistent brand will help customers recognize you, keeping you in mind when looking for a new health care provider.
3. Boosts Employee Morale
Multi-location branding ensures employees know they're connected to all the branches in your organization. A centralized brand can drive consistency and help everyone on the team feel unified — everyone works together as part of your organization regardless of the location where they work.
A disjointed branding strategy can make your employees feel like there's too much of a divide in your health care organization. Being connected and having a common purpose can help boost employee morale and productivity, as every team member will be working together to achieve the same goals for the organization.
4. Builds Patient Trust
Trust is crucial in health care. Patients are often their most vulnerable when seeking medical care, so they must trust their practitioners. If you fail to solidify your brand across numerous facilities, it's much harder for patients to recognize your organization and trust that they'll receive the same quality care at each facility.
Proper branding can help portray a brand as trustworthy, warm and inviting. Visual and verbal identity can help brands communicate their values and beliefs and showcase that they're leaders in the healthcare community. Cohesion is also important in building trust — when you ensure people can recognize your practice no matter the location they visit, you can develop a strong relationship with your patients.
5. Improves Patients Journey
When creating a branding strategy, it's important to understand your customers. You should know who your patients are, their needs, their medical challenges and what they want from you.
The data and information you gather about a patient's journey can help you develop a branding strategy targeting their preferences. This can spill over into other aspects of your practice, including branch location, layout, and appointment booking and onboarding processes.
Improving the patient journey through branding can help build stronger relationships and trust.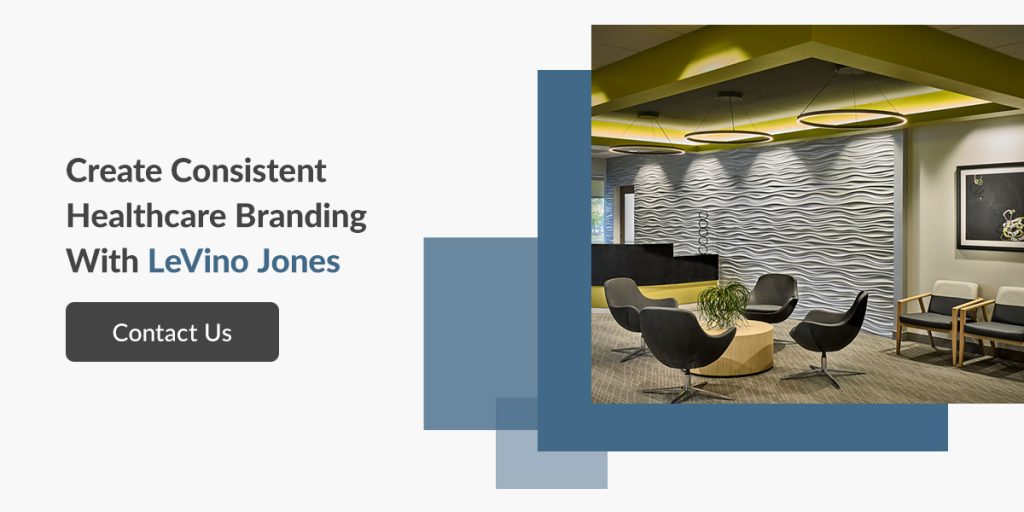 Create Consistent Healthcare Branding With LeVino Jones
At LeVino Jones, we understand how important branding is to health care professionals. Our skilled team has over 100 years of combined design experience and has designed over 12 million square feet of health care facility interiors. We can help you create consistent health care branding for multiple locations.
Take a look at our projects for a feel of how we can help you. You can also book a consultation with one of our team members today!